&nbsp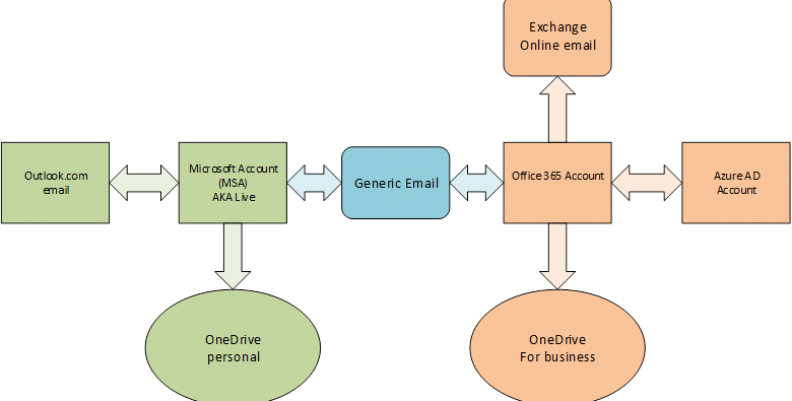 Microsoft Account (MSA) compared to Office 365 Account
I have had several clients and friends express frustration and confusion regarding personal OneDrive and OneDrive for Business. From what I've seen, the confusion has its roots in understanding Microsoft Accounts (MSAs), formerly known as Live accounts, and their relationship to Office 365 business accounts.
The following picture can help show the relationship between an MSA and Office 365 accounts:
First, let's discuss MSA accounts.
One way to obtain a Microsoft account (MSA) is by signing up for an Outlook.com email account. A new Outlook.com account will have an email address like username@outlook.com.  An Outlook.com account would have been a Hotmail account or Live account in the past (so username@hotmail.com or username@live.com).
Another way to obtain an MSA is by signing up with an existing email account. For example, you can create an MSA using a Yahoo account like username@yahoo.com. You can also use a business email account like username@mybusiness.com.
An MSA gives you a OneDrive personal account. A OneDrive personal account used to be known as a SkyDrive account. A OneDrive personal account is like a DropBox or similar file-share account.
Next, let's look at Office 365 (O365) business accounts.
For an O365 business account, you need to provide an email address (though it does not need to be a real one). In most cases, you will sign up with an actual email account you use regularly… a personal email (like username@yahoo.com or username@outlook.com) or a business account like username@mybusiness.com. The account can be an MSA, but does not have to be one. Once you have an O365 account, you have a OneDrive for Business file-share account.  A OneDrive for Business account is also a SharePoint account (the OneDrive for Business file-share is a SharePoint site).
Once you have an Office365 business account, which will end in *.onmicrosoft.com, you will typically connect it to a business domain such as mybusiness.com, and then create a user account on Office 365 using that domain. So, in the end, you may have an O365 account that has the email address of username@mybusiness.com. This is the source of confusion between accounts.  After you connect the domain mybusiness.com to Office 365, you will be able to sign in to Office 365 with username@mybusiness.com and access your OneDrive for Business file share using that email as the sign-in.
If you created an MSA using this same email, you can sign in to both OneDrive personal and OneDrive for Business, with that email address.  In fact, you can sign in to Outlook.com and Onedrive.com and Office 365, all with the same email address.  But, when you sign in to these systems, you are signing with separate accounts that use the same email address as the user name.
This is the source of the confusion. You can see the difference at sign-in:
In this case, Microsoft knows there are two different account types, personal (MSA) and business (O365) using the same email address, and they are letting you choose which to use.
It is even possible to sign in to both at the same time, if you use separate web browsers for each sign-in or use InPrivate browsing in IE (or the equivalent in Chrome, etc.) to keep the session information separate.
How do you avoid the confusion?
So, if you find yourself having problems keeping them straight, you may want to consider changing the email address associated with your personal account so that you can sign into your business (O365) and personal (MSA) accounts with different email addresses.  Or, now that you know what to look for at sign-in, you may simply watch more closely which account you are signing in to.